Products
The distinguishing feature of Mother Goth Baby Wares is the use of super absorbent and stain resistant (yes, stain resistant!!) black towel fabric. Cotton fabric and ribbon designs will vary and some may no longer be available.
As The Boy grows so do the products offered by Mother Goth.
Bibs - bibbles - Boo! Cloths - nifty noose (snap & clip)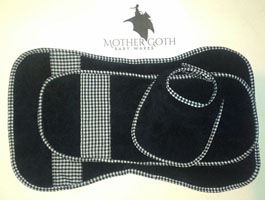 Samples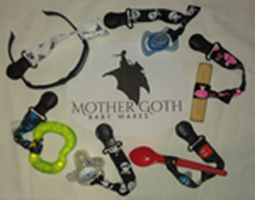 Bibs - with features for your baby's comfort and safety and for your convenience. One size fits all with the two snap fasteners at the back of the neck. Additional snaps at the side front of the Bib are used to attach the Nifty Noose. The Bibs are reversible with black towel on one side and cotton on the other. The cotton fabric designs inspire baby's imagination with untraditional graphics and protects baby's clothes. The bibs sell for $AUD15 each.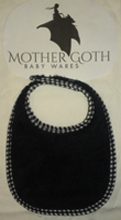 Picnic Gingham Black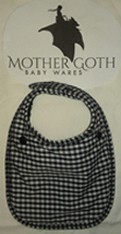 Purple Bats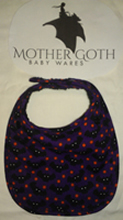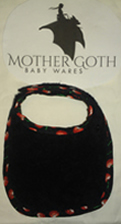 Cherries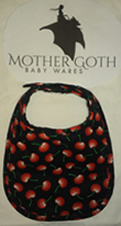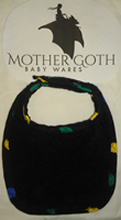 Coloured duckies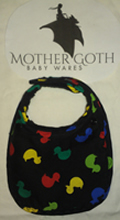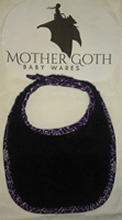 Purple webs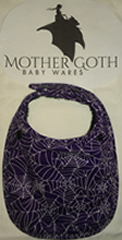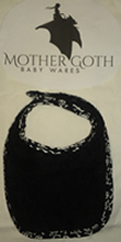 Skulls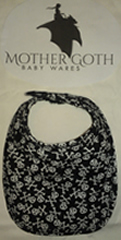 Outer Space
Coloured spots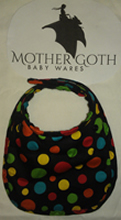 Bibbles - not quite a bib... made to contain dribble... introducing the "Bibble"
Designed from a bandana the new Bibble is perfect for growing & toddling critters. It's relaxed attitude makes it the most comfortable, practical & fashionable 'must have'. With a roll down neck it's one size fits all, fully reversible & can be used with a Mother Goth Nifty Noose snap... so all of your teething necessities are in the one place! The soft absorbent towel means no chaffing & may help stop rashes caused by excessive dribbling during teething. The Bibble sells for $AUD10 each.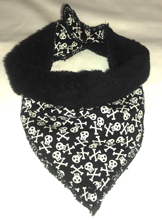 Skulls
Cherries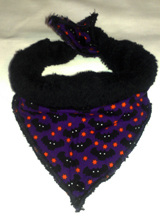 Purple Bats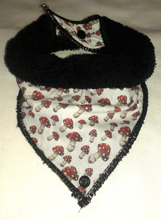 Mushroom Mini Dark Red & White by thistleandfox on Spoonflower
Space - Robots & Rockets
Coloured Spots
Picnic Gingham Orange
Halloween Chevron Orange
Boo! Cloth - the perfect burp cloth that does so much more than catch any 'output' from baby during and after a feed. Black towel fabric with cotton feature strip and edging they come in 2 sizes. The small size fits easily into handbags or jacket pockets when folded. The big size fits cosily over any shoulder and it not only protects your black clothes from the previously mentioned 'output'. The Boo! Cloths protects your clothes from white pilling that happens when you use the traditional white towelling cloths which is a stand out feature... personally I have had two dresses and one cardigan severely affected by white pilling. And of course you must use the cloths to play Boo! No baby or baby has grown up?? Use your Boo! Cloth as a clean up cloth for toddlers, a hand towel, a tea towel, gardening cloth, keep one in the car for those unexpected engine maintenance issues... so many uses & remember they won't stain!! The big Boo! Cloth sells for $AUD25 each & the small one for $AUD20.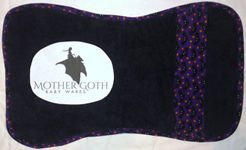 Purple Bats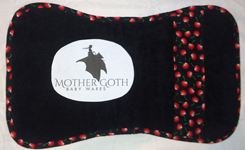 Cherries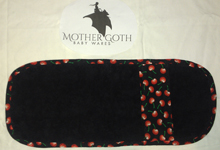 Coloured duckies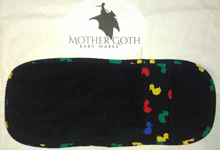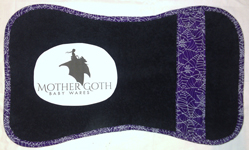 Purple webs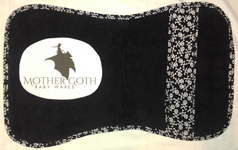 Skulls
Nifty Noose - one of the essential pieces of equipment for your critter. I've used a classic Scaffold Noose knot with grossgrain ribbon that is used to hold a dummy (with or without a traditional handle), teething rings, rusks, spoons, toothbrushes etc. anything that you don't want to fall onto the ground. For the lucky owners of a Mother Goth Bib, the Nifty Noose is available with a snap fastener that attaches directly to the Bib.
For those that don't own a Mother Goth Bib or those that want to use the Nifty Noose for sleeping and when not using a Bib, the Nifty Noose is available as a versatile clip that is very user friendly. The clip is ideal for use with dummies while sleeping as it is designed to have the Australian Raising Children Network's recommended 10cm length for safety. The Nifty Noose snap sells for $AUD5 each & the Nifty Noose clip for $AUD10... remember, the Nifty Noose snap can only be used with a Mother Goth Bib.
The snap on a bib & the clip with dummy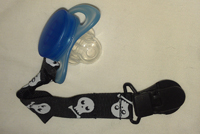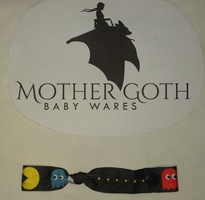 Snap pacman Clip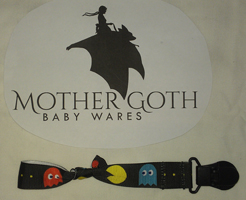 Snap skulls Clip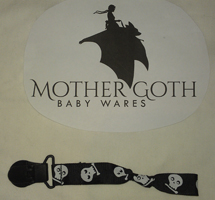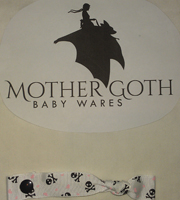 Snap skulls & hearts Clip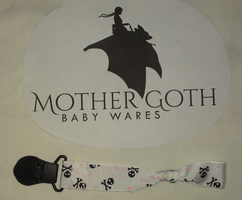 Snap stars Clip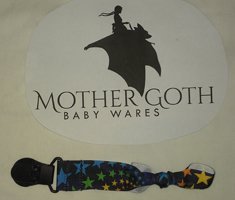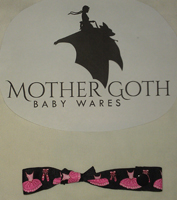 Snap tutus Clip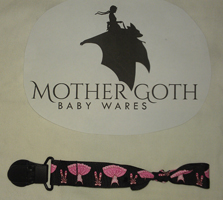 Snap Carousel Horses Clip


Snap White Skulls Clip
Rattles - not your average rattle these will entertain your critter for hours & help tiny hands learn how to grip, shake & squeeze. A variety of noises help tiny ears recognise rattles, jingles & squeaks. Rattles sell for $AUD7.50 each
Spooky Balloon cat (jingles) - by puncezilla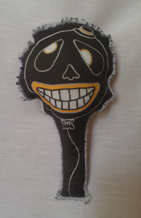 Spooky Balloon clown (squeaks) - by puncezilla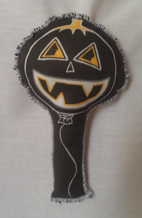 Spooky Balloon pumpkin (rattles) - by puncezilla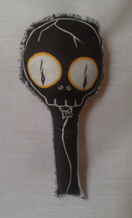 Spooky Balloon skull (rattles) - by puncezilla
bags - Originally made as a Trick or Treat bag these bags can also be used as a Library Bag or even a handbag! They are fully lined with a handy pocket on the inside for emergency contact cards, phone cards, library cards, mobile telephones etc. They come in 2 sizes. The small bag sells for $AUD10 each & the big bag sells for $AUD15 each.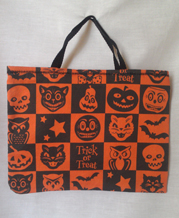 Small bag - Halloween - Bogi Book No. 1 by retrorudolphs
Small bag - Halloween blocks
Big bag - Halloween blocks, black handles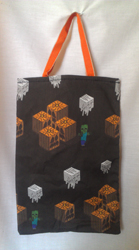 Big bag - Halloween blocks, orange handles